French River's Mission
French River Land Company (FRL) develops small and micro hydro resources. As hydro developer, French River provides the unique experience, engineering and craftsmanship to build and operate hydro projects in the Northeast.
William K. Fay P.E., FRL's President and General Manager, is a licensed hydro engineer who has inspected 80 dams for the Massachusetts Dam Safety Division and is authorized by the Federal Energy Regulatory Commission (FERC) to perform Part 12 inspections of licensed hydropower facilities. He and his children, Celeste and Will, have rebuilt many small hydro plants located throughout New England.
_______________________________________________________________________________________________
_________________________________________________________________________________________________October
June 24th, 2016. Hello everyone. I have retired from Tacoma Power to help Celeste, Ron and Will with their projects. I will be posting a lot more now. I was reluctant to discuss my time at Tacoma for security reasons.
Bill Fay
February 15th, 2016 Test
November 1st, 2015, added:
1) A Self-Adjusting Spring Thrust Bearing- Henry G. Reist, ASME No. 1646.
2) Thrust Bearings as used in large General Electric Hydraulic Turbine-driven Generators GEA-2251E.
3) Standard General Electric Specifications for Hydro Thrust Bearings and Runner.
4) ASEA- Bearings for Large Vertical Hydro-Electric Machines.
5) Nohab- Water Turbines
6) Bearing Currents: Their Origin and Prevention.
7) Loading Vertical Thrust Bearings- Slug Arc Method R. C. Johnson Allis Chalmers Engineering Review.
8) Hydraulic Power Transmission by Compressed Air- Charles Havelock Taylor.
October 11th, 2015: added Water Hammer and Surge Tanks by G. V. Aronovich. Started cleaning up Pole Key Extraction Methods.
October 8th, 2015: added Rife Hydraulic Engine
October 3rd, 2015: added Pole Key Extraction Methods
Do cranes fly? I guess they can!!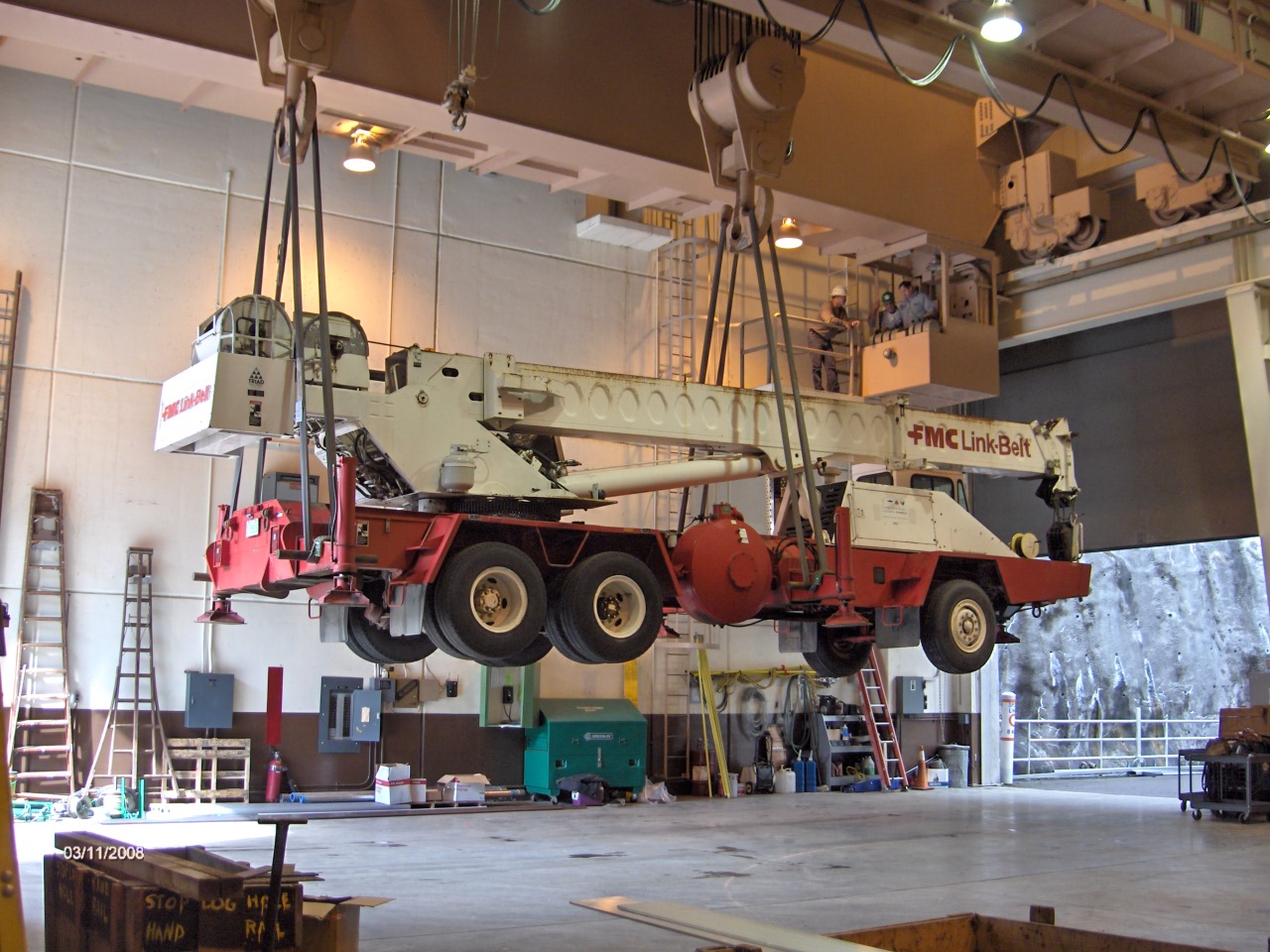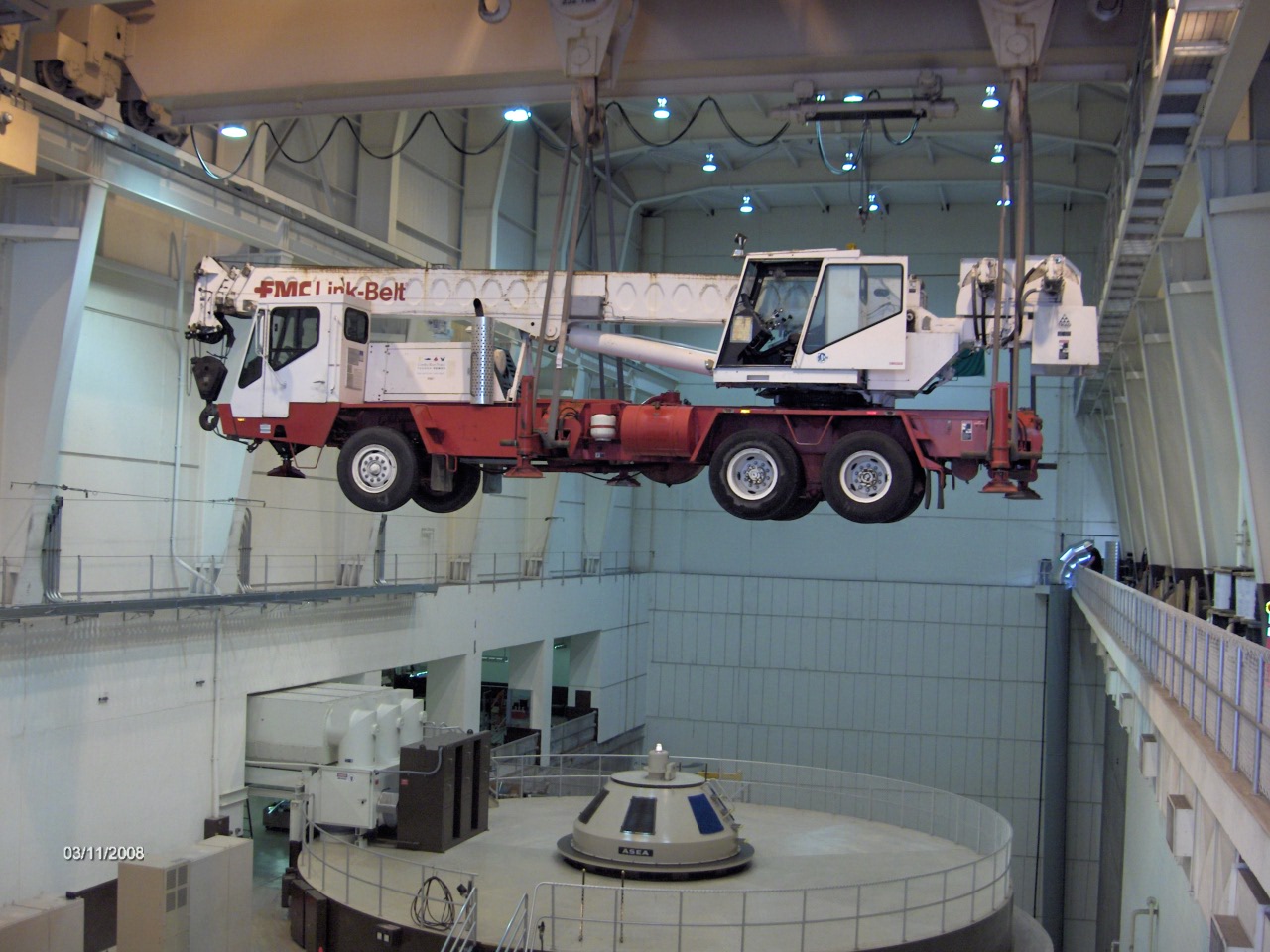 September 12th, 2015, Added: Tests Of A Rife Ram, Graduation Thesis of Theodore W. Johnson & Arthur J. Wood 1896
September 7th, 2015: Finished: Tidal Energy
Added: Hydraulic Rams their Principals and Construction by J. Wright Clarke
August 22nd, 2015 started: Tidal Energy for Hydroelectric Power Plants by L. B. Bernshtein
August 9th, 2015 added: Technology of Heavy Electric Machine Building Hydro Generators by M. I. Zundelevich and S. A. Prutkovski
August 3rd 2015 added: HYDROTURBINES: DESIGN AND CONSTRUCTION by N. N. KOVALEV
May 25th, 2015 Added Wynoochee
December 6th, 2014
Sorry about the 18 month hiatus. I took a job with Tacoma Power as their Generation Manager of Mechanical Engineers. I am in charge of the repair and upgrade of units ranging in size from 500 kilowatts to 200 megawatts. It is hard to describe all the cool projects I am working on. The following are some random updates:
Will amongst the Titans! Will is standing on the exciter service catwalk on top of the U21, a 29 MW, Allis Chalmers Hydro Generator. He came for Thanksgiving and we went on a tour.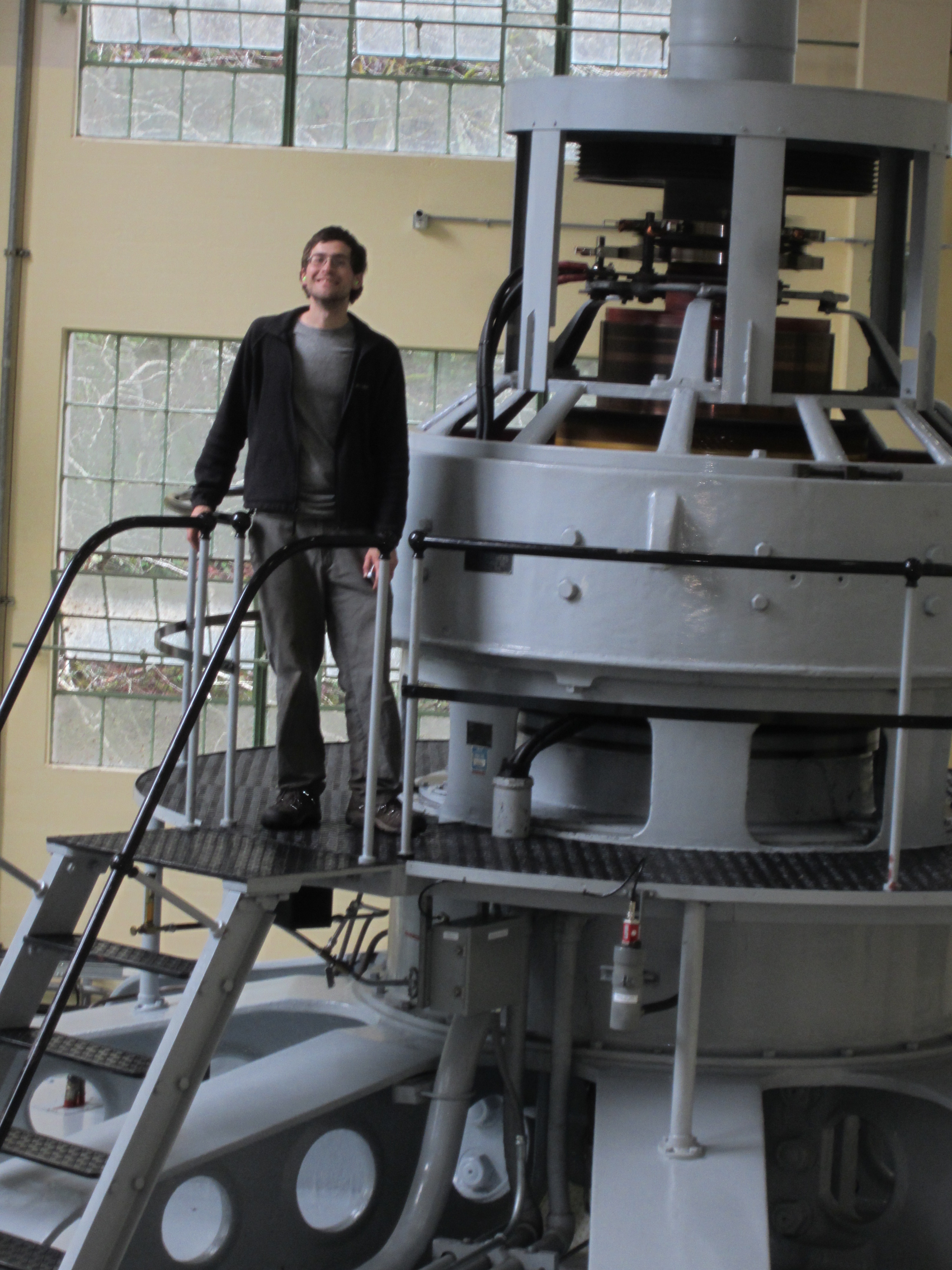 and here is a view of the complete machine: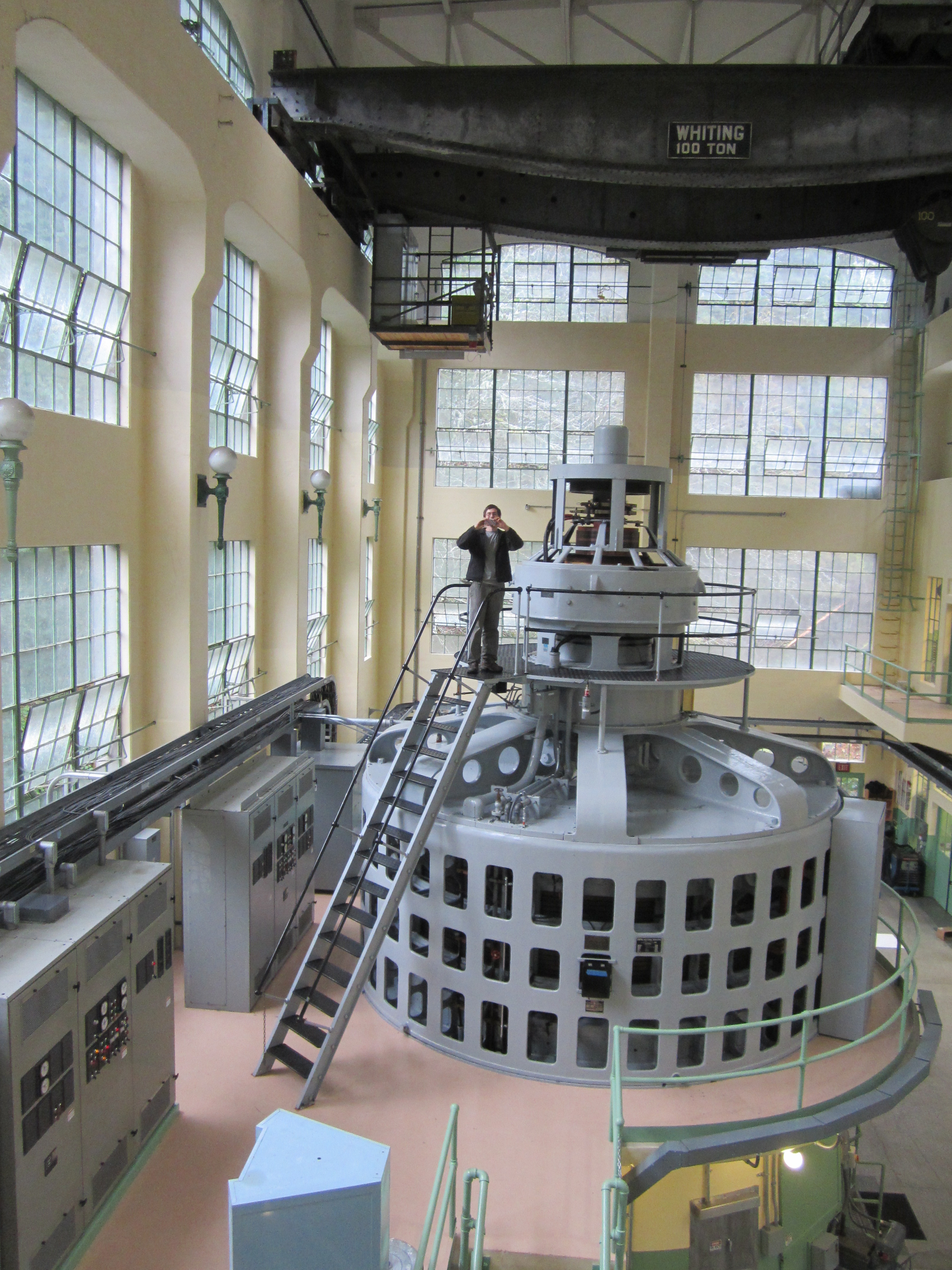 Will is standing in front of one of LeGrande's baby 6 MW units installed in 1906.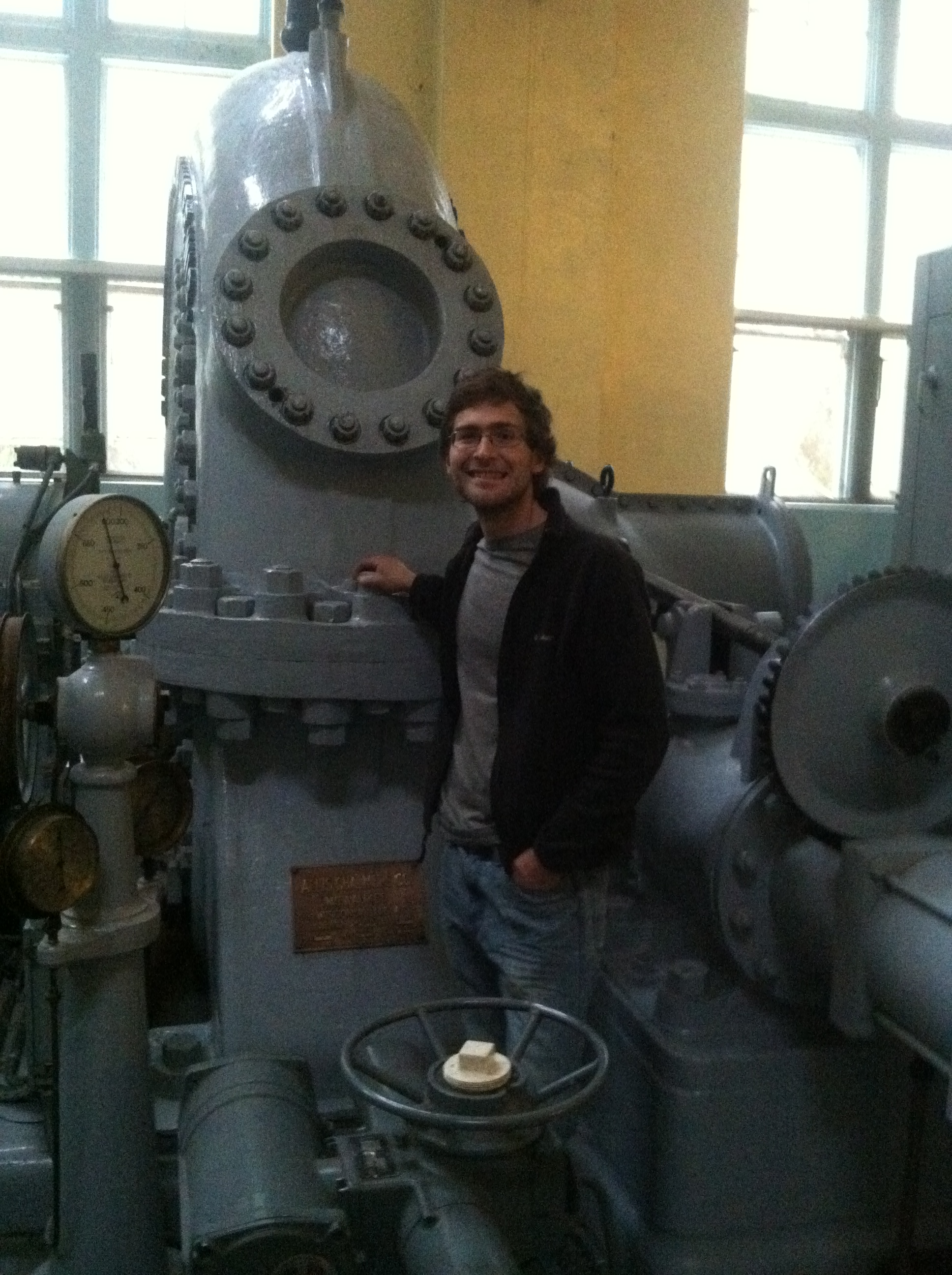 Here Will is standing in front of one of Cushman 2's runners that were replaced with new Voith runners in 1998.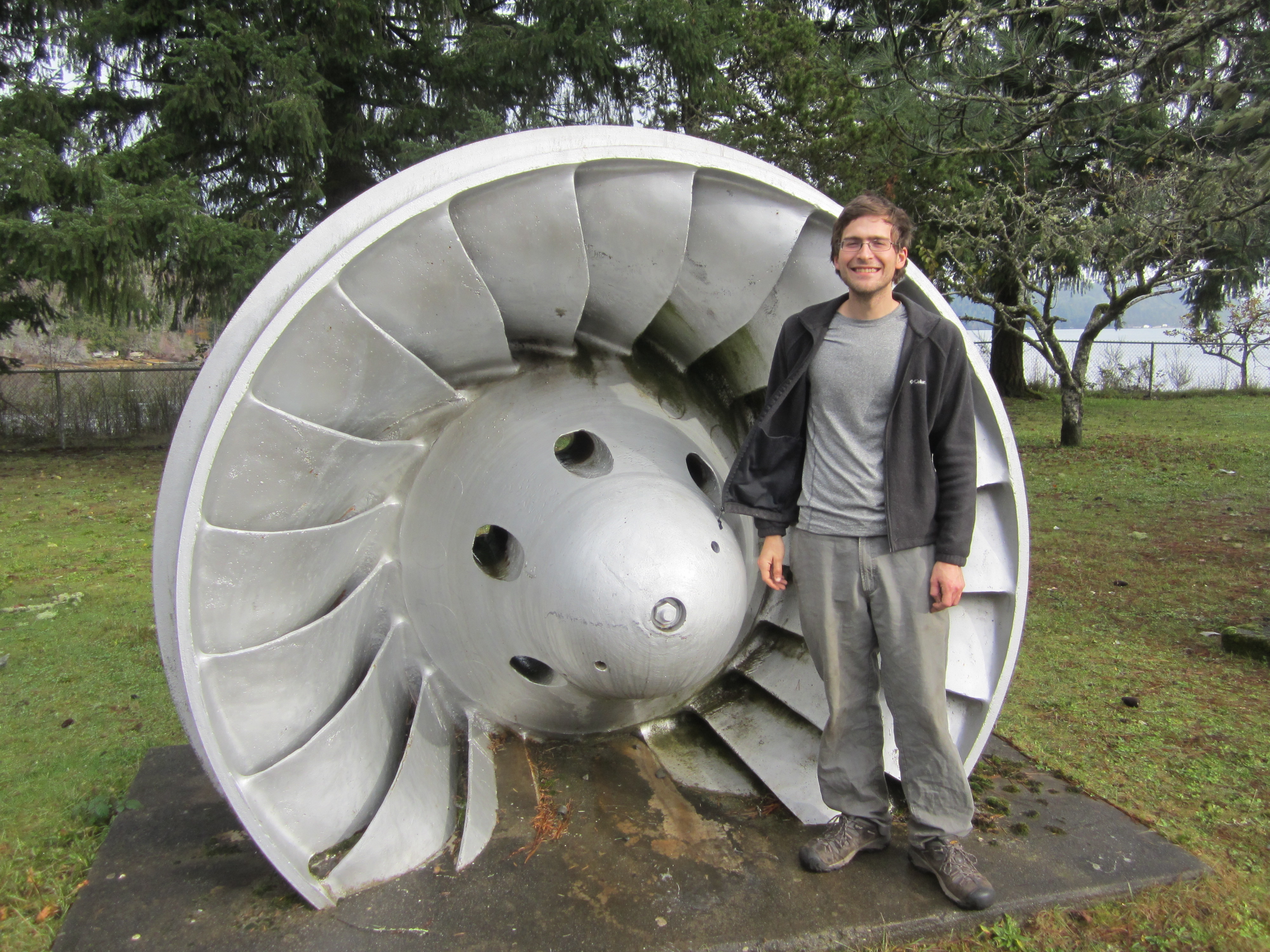 Will is standing in front of the newly welded upper generator bracket for our Wynoochee Plant. This baby 15 MW unit is a Russian turbine/generator set the City installed at a CORPS Dam in 1994.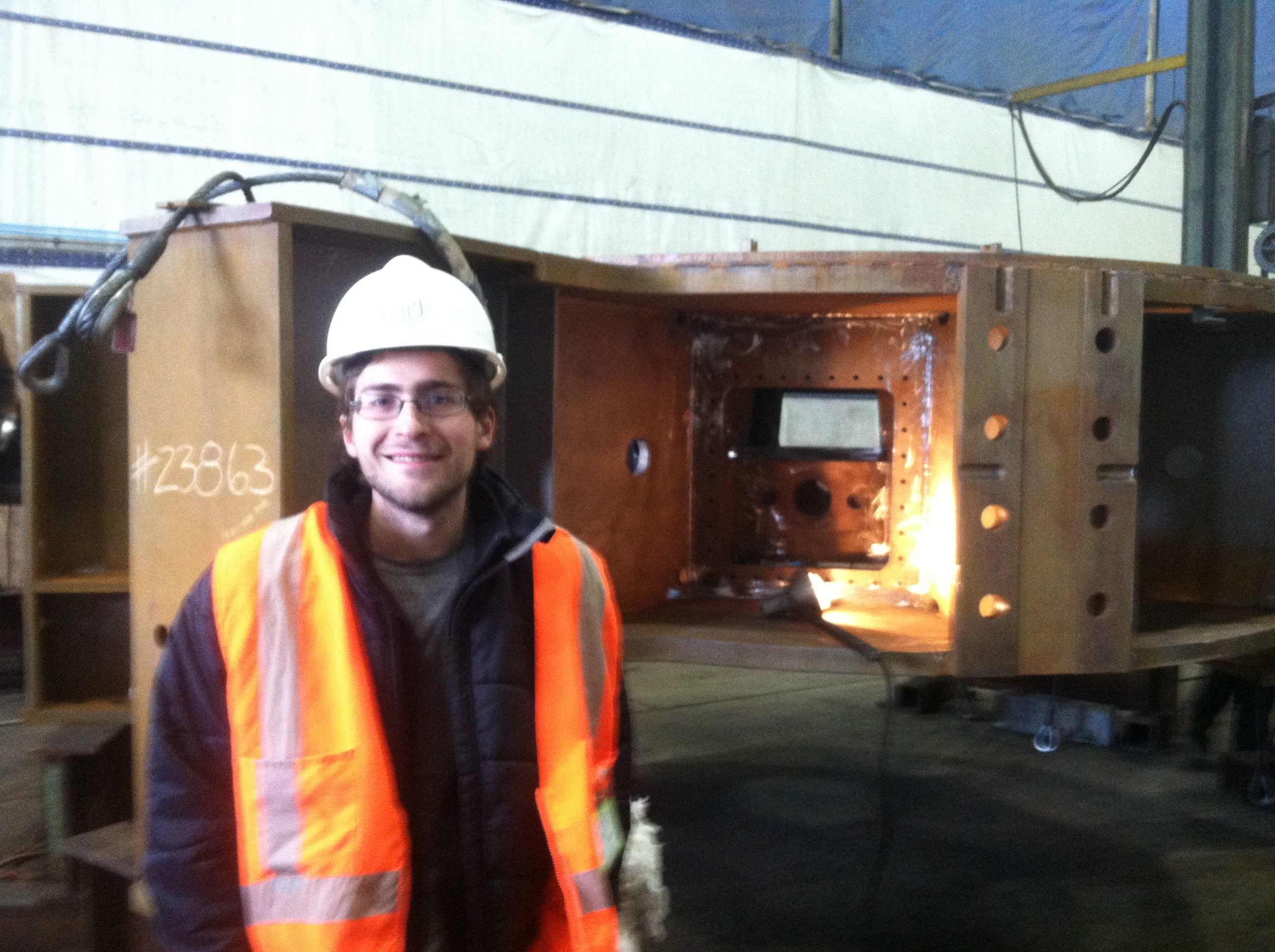 Karen, Celesty and I attended the Hydro Vision International Conference in Nashville this past July. Celesty represented the Alden Research Laboratory and presented a paper on Luddington Pumped Storage intake design. During the conference she was surprised with an award that she was recognized as one of the outstanding woman in hydro!!! I was very proud of her!!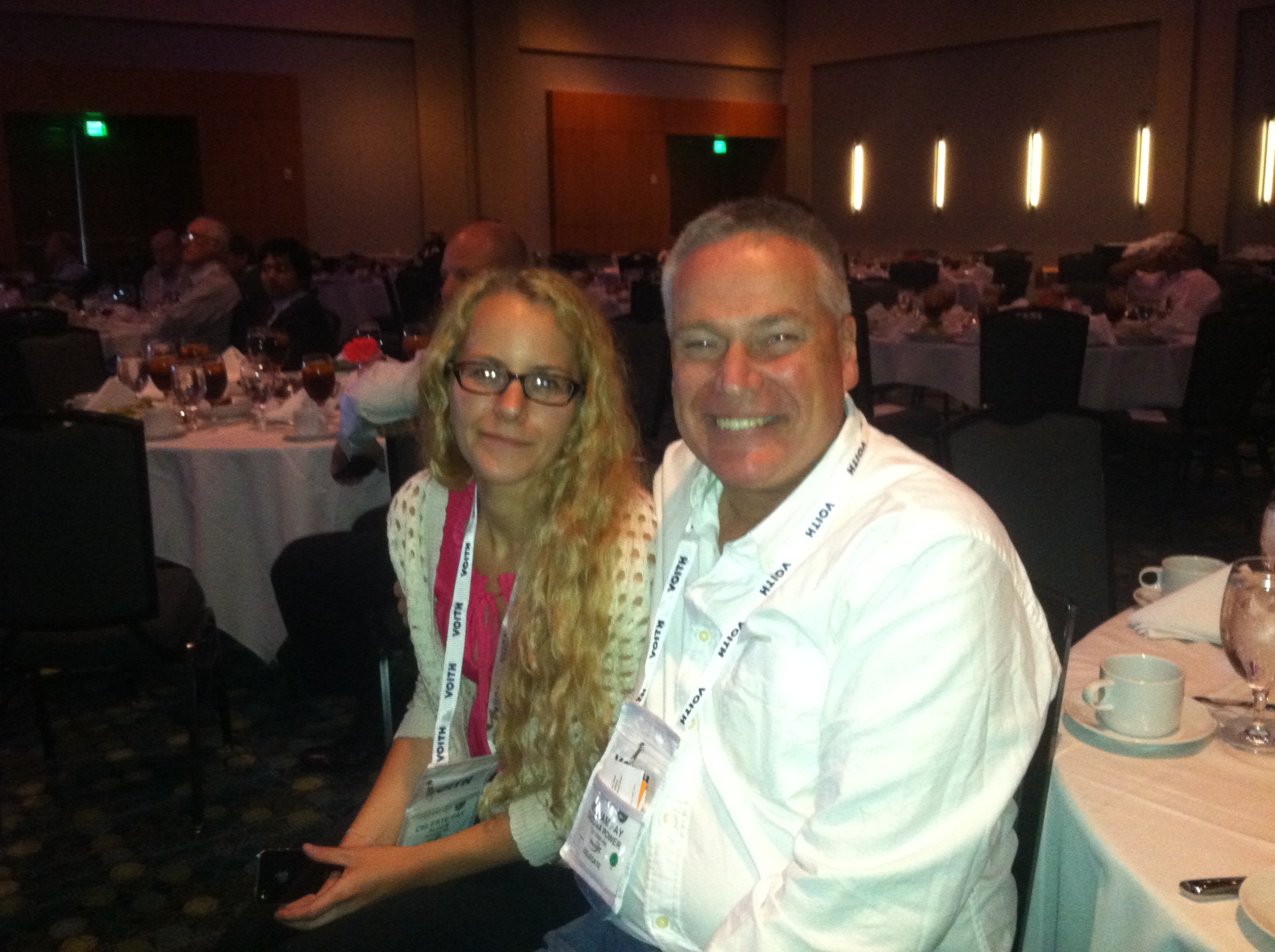 Here is an incredible photo of the new Andritz runner installed at Mossyrock. This runner swallows 6000 cfs at 303 feet of head. It is so beautiful. It has been operating since 2008 and there are no signs of cavitation: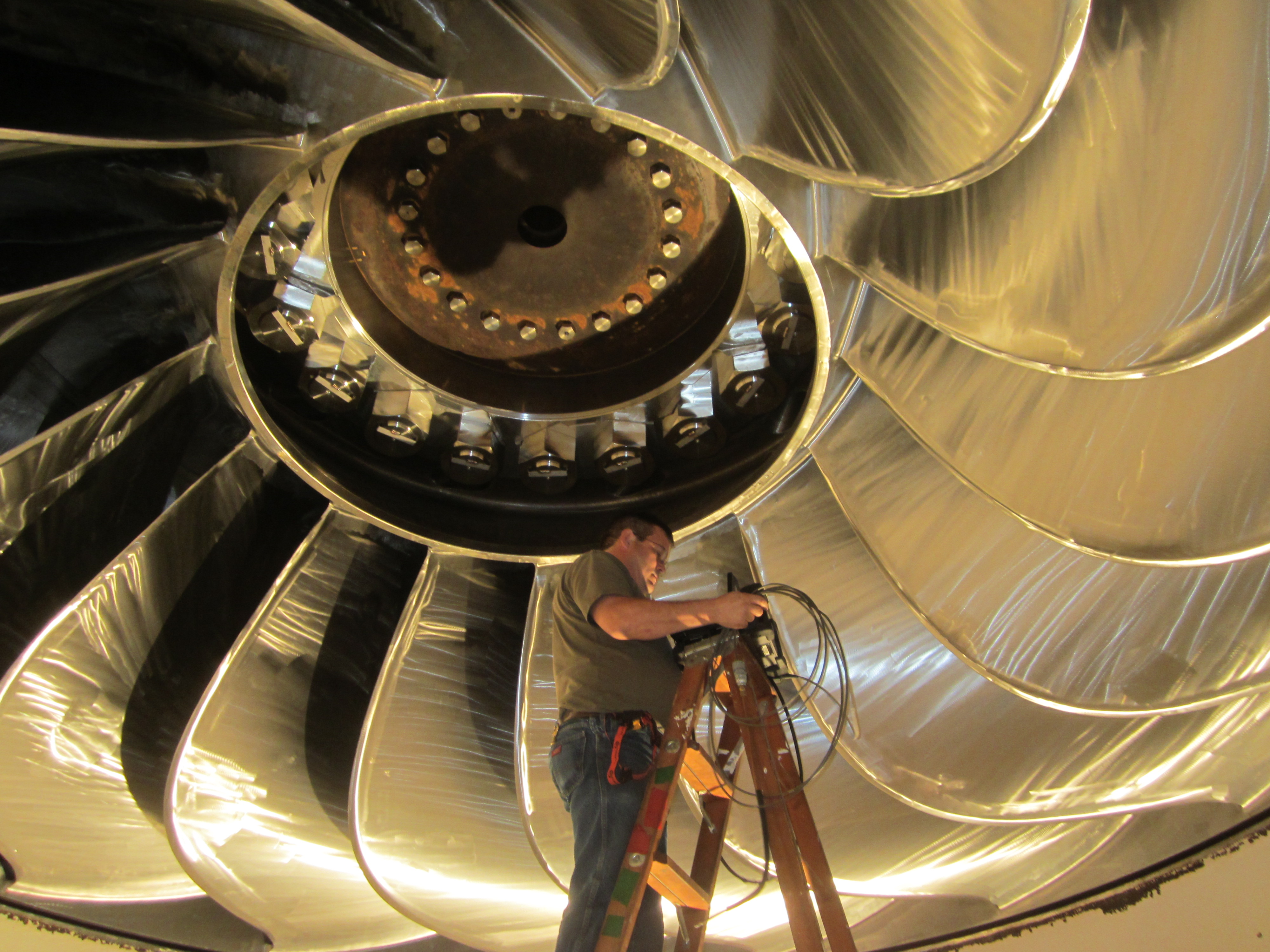 We discovered cavitation on our LaGrande runners. I wrote a welding procedure for the repair work. The following photos depict some of the repair work: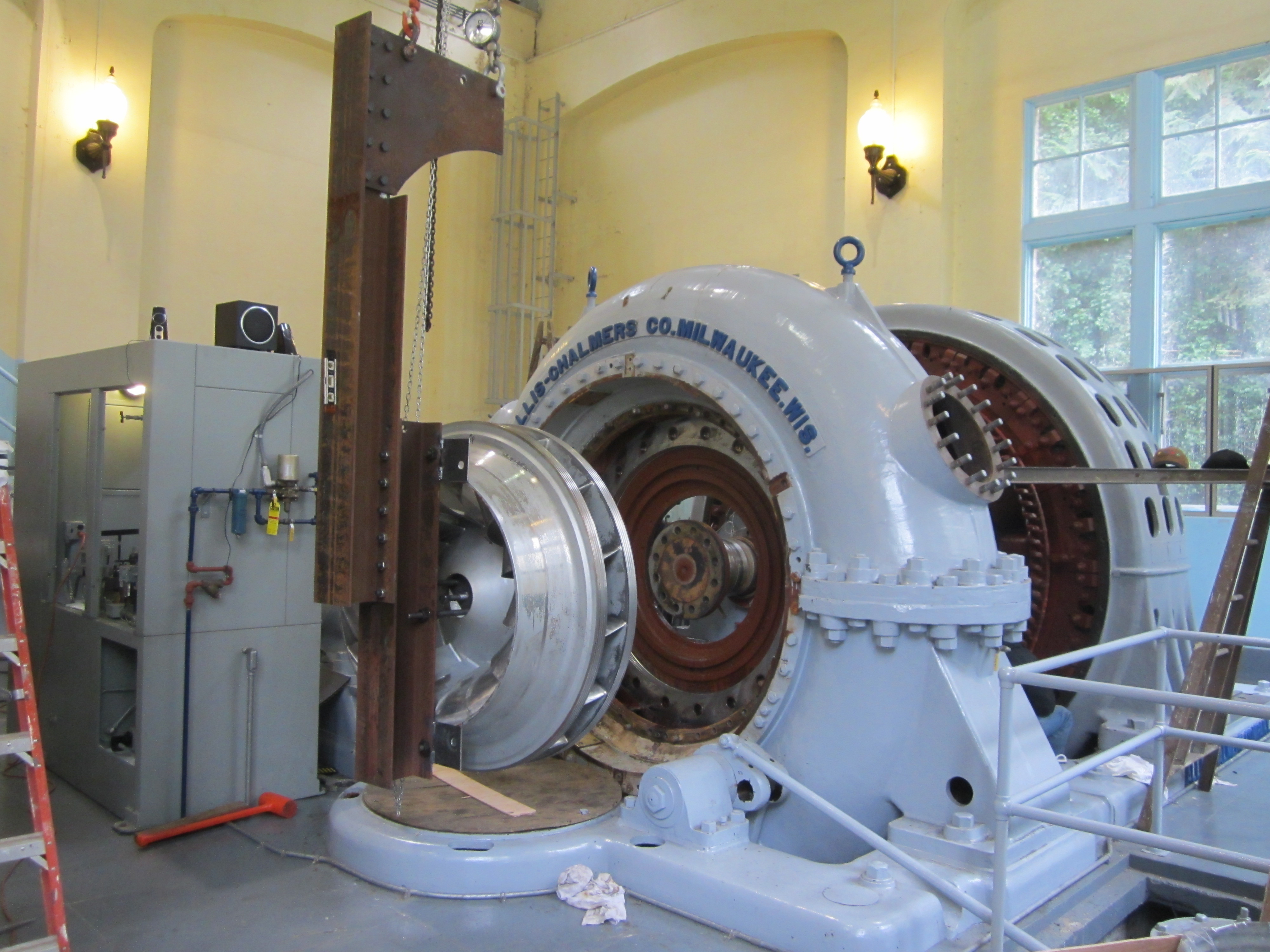 Removing a LaGrande runner. Notice the overhung lifting jig used to lift the runner horizontally out of the gate case at its center of gravity. Note because of the head, the inlet blade section is larger in diameter than the discharge ring.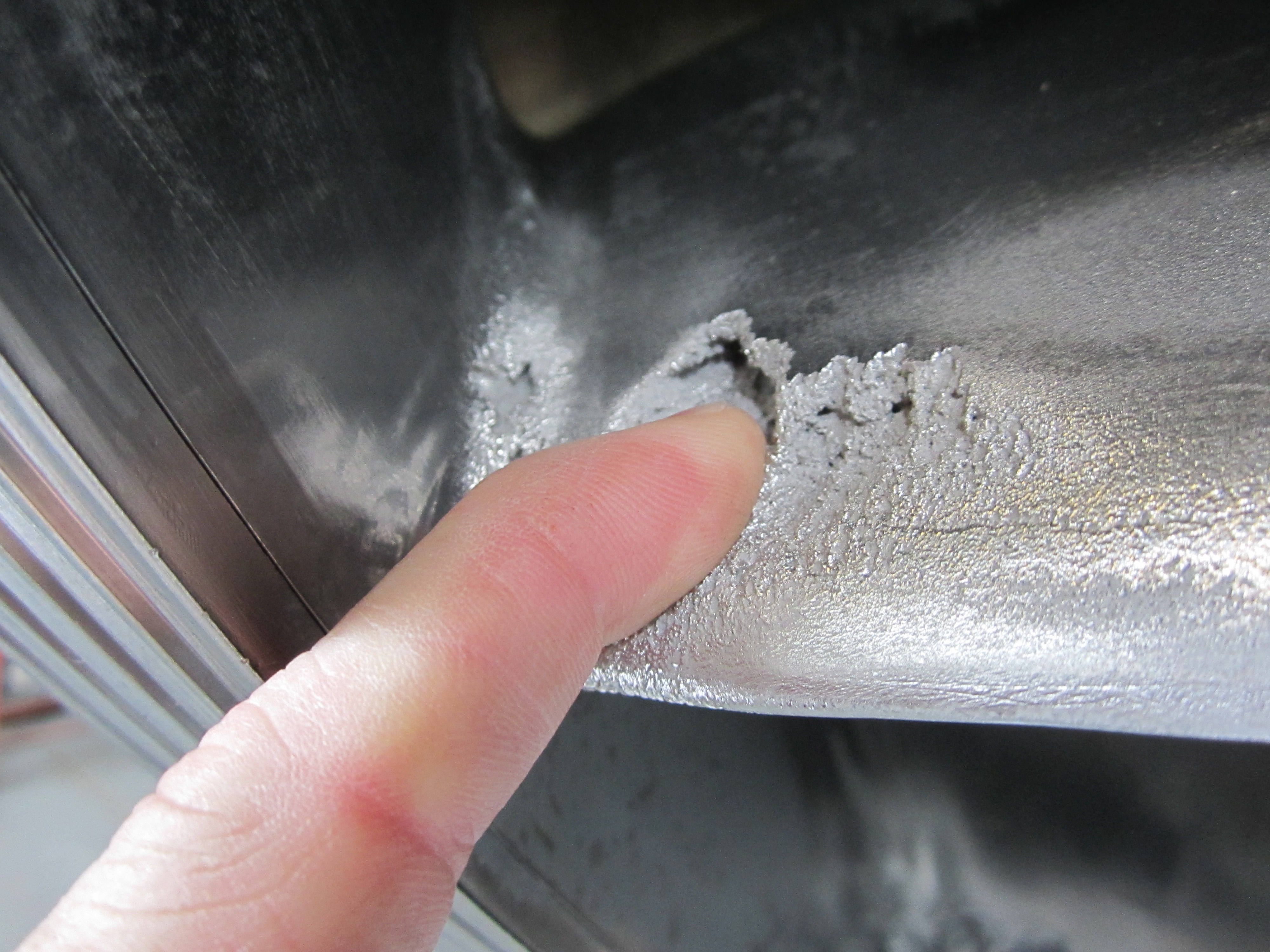 This is pitting caused by cavitation. Notice the metal has been eroded from the center of the blade leaving the blade hollow.
All position welding jig used to easily rotate the runner to the optimum position for repairing the pitting damage. The repair is made by grinding out the pitted metal hole and filling it back in with SS welding rod.